Point Reyes Lodging Association
P.O. Box 878
Point Reyes, California 94956
Plan your perfect weekend getaway with the help of Point Reyes Lodging, a comprehensive resource providing visitors to the Point Reyes National Seashore with the top starting place for finding the ideal accommodation.
Explore many of the area's finest bed and breakfasts, country inns, cottages, hotels and vacation rentals. Point Reyes Lodging members operate an array of lodging options, so you can choose the perfect accommodations to meet your personal preferences for your honeymoon travel, romantic getaways or vacations.
The Point Reyes California area features a wide variety of accommodations to suit every taste and occasion. We feature lodging in West Marin, Point Reyes Station, Inverness, Olema and the surrounding area. Find the perfect situation for a weekend getaway, a honeymoon vacation, or to visit to the Point Reyes National Seashore. Relax in an exquisite Victorian bed and breakfast and celebrate your anniversary, or even stay at a farm style bed and breakfast and enjoy the surrounding ranch lands and organic farms.
While you are here enjoy whale watching, hiking, biking, and the beautiful beaches of the Point Reyes National Seashore.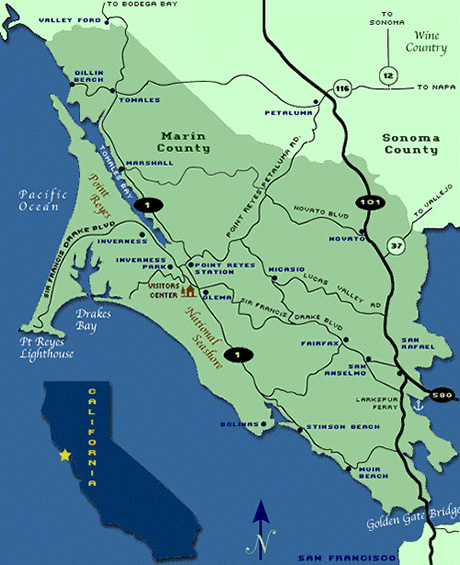 (map© 2003-2009 digital cottage)
Point Reyes Lodging

An exceptionally peaceful Inn set atop a bluff looking out over an iconic view of rolling grasslands, Tomales Bay and Inverness Ridge — guests come here for the spectacular view, privacy and deep serenity. more